We Are One Big Family


in Alice Springs!
Yeperenye Pty Ltd takes pride in having a wide roster of local retailers, not only in our own shopping centre but also in Springs Plaza. When you shop with us, you'll never run out of choices! See our complete list of stores now.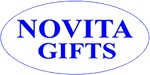 Novita Gifts
Since 1980, Novita Gifts has been the gift store that keeps on giving. It doesn't matter if the gift is for your best friend's wedding, a family member's birthday, or just because; we always take great pride in having the perfect gift, and knowing that it will make someone smile.
Such a loving business can only be family owned. Husband and wife team Peter and Ann have provided Alice Springs with quality homewares, candles, fragrances and kitchenwares for 37 years and counting. A love of gift-giving also led Peter and Ann to start Novita Bambini—a section of Novita Gifts dedicated entirely to baby and nursery products.
Give us the opportunity to maintain our reputation for outstanding customer service. We won't let you down. Visit our Todd Mall store today and browse through our great collection of gifts.
Store Hours:
Monday to Friday: 09:00 AM – 05:30 PM
Saturday: 09:00 AM – 04:00 PM
Sunday: 09:00 AM – 02:00 PM

Phone: (08) 8952 7606
Website: Click Here
Free deliveries, local addresses
Click & Collect
Store Info:
Location: 33 Todd Mall, Alice Springs NT, 0870

Territory Dry Cleaners
Territory Dry Cleaners has all of your professional cleaning needs covered. We provide dry cleaning services to Alice Springs, as well as alterations. We'll have your clothing or fabric looking like new again with our professional and affordable cleaning service.
In fact, we can clean the majority of fabrics, including wool and leather. We carefully dry clean suits, wedding gowns and other delicate items. Territory Dry Cleaners also cater for business uniforms and can iron a range of outfits too. Ask us and we can help you with specialised work and requests. Clothing repair services are also available.
Our Alice Springs dry cleaners are professionals when it comes to cleaning. With a laundry holding industrial washing machines, we can cater for large loads. You can drop off your items and pick them up, or you can have them delivered.
We also clean a variety of household items including curtains, beauty care towels and linen. Come in store and see our friendly staff to get your items cleaned today.
Store Hours:
Monday to Friday: 08:00 AM – 05:00 PM
Saturday: 09:00 AM – 12:00 PM
*Adjusted store hours due to the COVID-19 pandemic. This schedule will be followed until further notice.
Monday to Friday: 09:00 AM – 04:00 PM
Saturday: 8:30 AM – 12:00 PM
Sunday: Closed
Store info:
Phone: (08) 8953 0009
Location: 1 Wills Tce